Women Jacket And Coat Size Chart And Measurements
This easy and self-explanatory leather women jacket and coat size chart ensures that each article you buy, will fit you perfectly. For accurate results, grab your best fitting leather jacket or a coat measure them, and determine your size according to the guidelines mentioned in the charts.
Size Chart For Women's Jacket/Coat
SIZE IN INCHES
S
M
L
XL
2XL
Body Bust Size
34" - 35"
36" - 37"
38" - 40"
41" - 43"
44" - 46"
Jacket Size Chart
Bust
38"
40"
43"
46"
49"
Shoulder
16.5"
17"
17.5"
18"
18.5"
Sleeve Length
25.5"
26"
26.5"
27"
27.5"
Length (Varies By Styles)
25.5"
26"
26.5"
27"
27.5"
Waist
31"
33"
36"
39"
42"
Find The Best Leather Jacket Based On Your Body Shape
We all love leather jacket and it is an essential item to have in your wardrobe for winters. There is a right and wrong jacket for everyone out there, you just have to find one that fit your style, budget and body shape.
As we all know that our body shapes are all completely different. No two bodies are the same, that's actually what makes us completely unique.
Your Jacket measurements also depends on your body shape. Our size chart is designed for rectangle body shape, it will effect on your jacket measurements. Please review the image below that will help you to know all of those beautiful body shapes and which leather jacket may be perfect for enhancing your figure!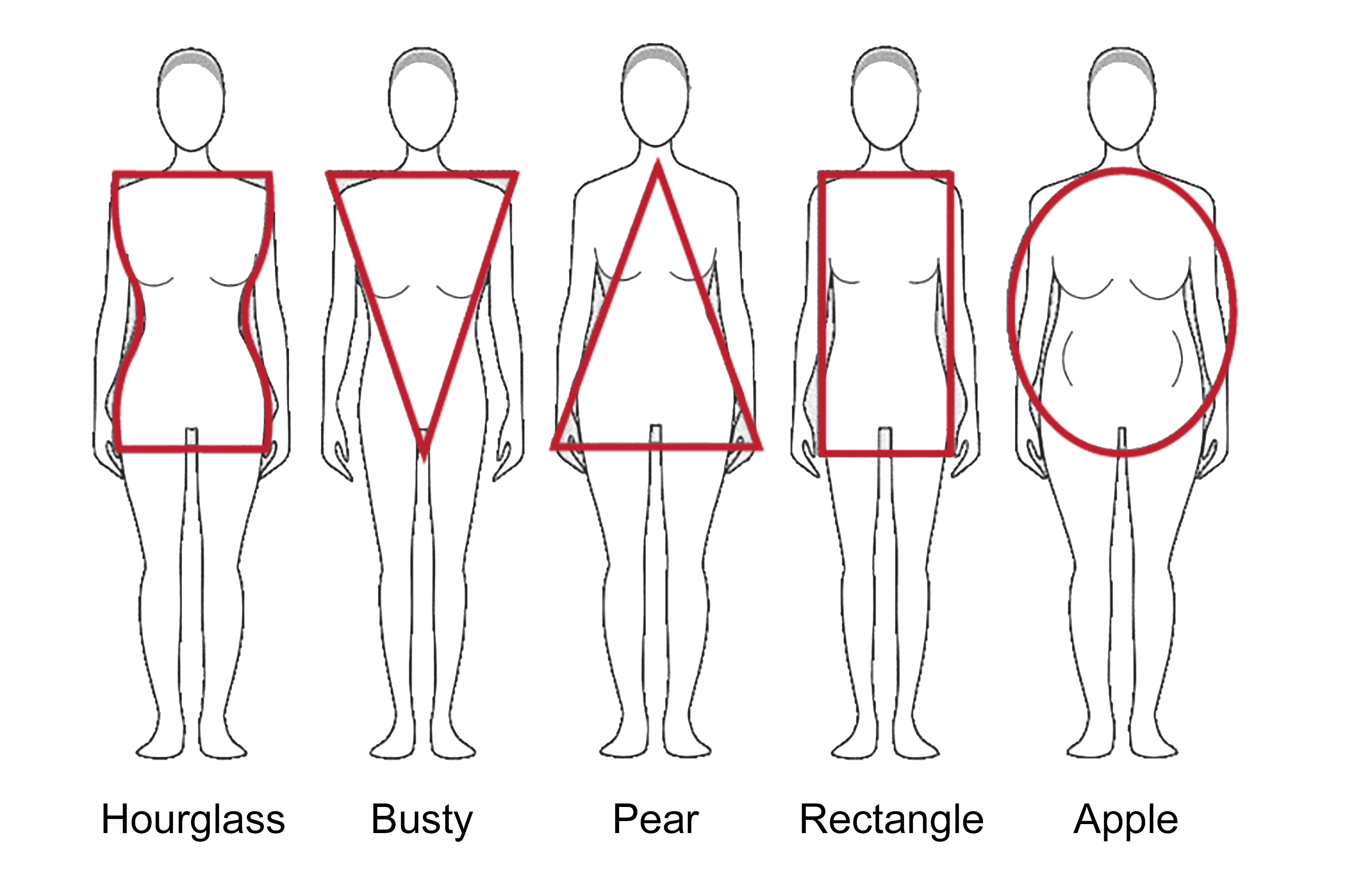 We have explained you the primary body shapes. If you think your body type is not a rectangular, we strongly suggest you to do your measurement before place your order and email us from the contact usform we will take care of it. Your satisfaction is our responsibility.
Women Jacket Measurement Guidelines
Don't stretch any part of the Jacket - It must be free from wrinkles.
Chest: Wrap the measuring tape around the fullest area of your chest and measure the circumference.
Sleeves Outseam: Start from your shoulder edge, with your arm slightly bent, and run the measuring tape all the way down to the tip of your wrists.
Shoulder: Stand with a natural posture and stretch the tape horizontally across your back and measure the full width, starting from the tip of one shoulder to the tip of your other shoulder.
Natural Waist: Wrap the measuring tape around the narrowest area of your waist and take the measurement.
Lower Waist: Wrap the measuring tape around the widest part of your waist and take the measurement.
Hips: Wrap the measuring tape around the fullest part of your body, above the top of your legs, and take the measurement.
Shop Women's Aviator, Bomber & Biker Jackets